Baristas
Wait staff
Chefs
FOH
Kitchen hands
Awesome jobs for awesome people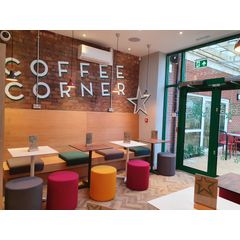 Barista
at CoCo Coffee Corner
Date Posted

14 Nov

Location

Southall, GB

Address

Boyd Ave, Southall UB1 3BT

Job Type

Full-time

Compensation

£21000

Compensation Type

Salary
Our coffee corner is a very modern and contemporary with a top of the state coffee machine.
The coffee shop is situated with in Villiers High School serving high quality coffee to the staff and A level students. It's not overly busy during the day. We also serve hot food which will be prepared from our main Kitchen and transferred to the coffee shop to sell. The coffee shop it's self contains ice maker, Dishwasher, panini machine and electric oven. Ideally we would like the barista to start on 15/11/21
Then Monday to Friday 7am to 2.30pm
Please get back to me at your earliest convenience
Looking forward to hear from you.
Location
View directions
Share this job
Want to spread the word or know someone who would be interested in applying for this job?
Apply to this job
Easy application - no signup required!
Sign up for job alerts?
Get the latest barista jobs sent straight to your inbox.
Related jobs